| | |
| --- | --- |
| Top Sectors Bought by Investment Club in November 2021 | 12/1/2021 |
Stocks from all 11 sectors were among the top 100 stocks bought in the month.

Diversifying an investment portfolio to include stocks from many sectors and industries is a great way to reduce overall risk exposure. This technique can help protect the portfolio from underperformance that results from stocks affected by specific economic or sector-specific trends.
Last month, the most popular 100 stocks bought by investment clubs included all 11 of the sectors used in the Morningstar equity classification system. This is a good sign that clubs are looking for stocks from all across the economic spectrum.
Perhaps unsurprisingly, Technology stocks were the most popular, with 24 of the top 100 stocks coming from that sector. Somewhat less expected is the second largest sector concentration, with 20 Consumer Cyclical stocks on the list. Given the length of the current economic expansion (setting aside the short pandemic-induced recession), many companies in this sector have been performing well for quite a long time.
Here is a breakdown of the sectors bought by investment clubs in the month: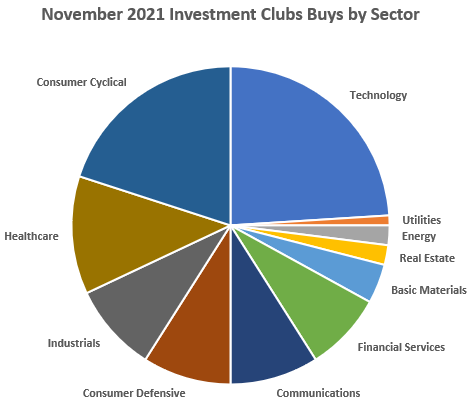 Click here to see the current myICLUB.com Top 40 for ideas for your investment club portfolio.
---
myICLUB.com is the world's most popular tool for investment club accounting and operations. Sign up for a free trial to see for yourself why thousands of investment clubs choose myICLUB.com to manage their club's books and operations.