| | |
| --- | --- |
| | Sign Up for myICLUB.com Today and Get These 3 Free Bonuses |
Dear Investment Club Member,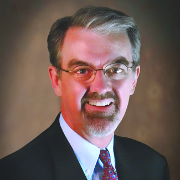 myICLUB.com's roots go back to 1988 with the first release of the NAIC Club Accounting software package. Since then, the program has been revised and expanded to become a comprehensive set of cloud-based tools to help investment club members manage many aspects of their clubs' operations.
With thirty years of experience behind us, our team at ICLUBcentral knows investment clubs. We know both the challenges that clubs face and the strategies that are most effective in making the club successful. These insights have helped us to build myICLUB.com into the most full-featured, robust, and easy-to-use website for new and experienced club treasurers and members alike, with features you won't find anywhere else. Those features include online voting, wizards for common tasks, a calculator for determining the best way to pay off a member withdrawal, a shareable calendar, and dynamic heatmap graphs. (Click here to learn more about all the great features of myICLUB.com.)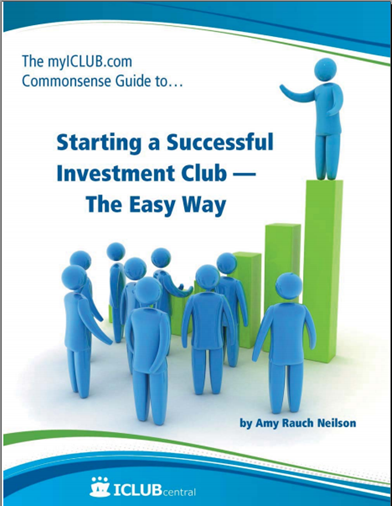 To help your investment club become as successful as possible, I am offering three free eBooks to you and your fellow club members. In The myICLUB.com Commonsense Guide to Starting a Successful Investment Club – the Easy Way by Amy Rauch Neilson, you can learn the secrets of successful investment clubs, from forming a new club to starting your first investment portfolio to coping with common problems once your club is up and running. This book includes chapters and advice on holding your first meeting, finding prospective members, handling member withdrawals, selecting a brokerage firm, tax requirements, choosing a name, and much more!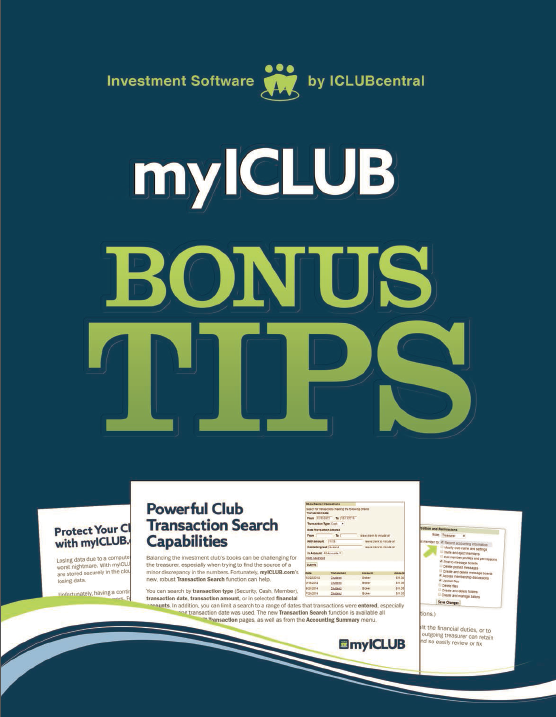 Your second free eBook is myICLUB.com Bonus Tips Volume #1. The collection of user tips included in this eBook will help you make the most of your myICLUB.com private club website – with a collection of useful features that you'll not find in any other investment club tool or website. Both treasurers and club members can learn about the unique and helpful aspects of myICLUB.com in this free eBook.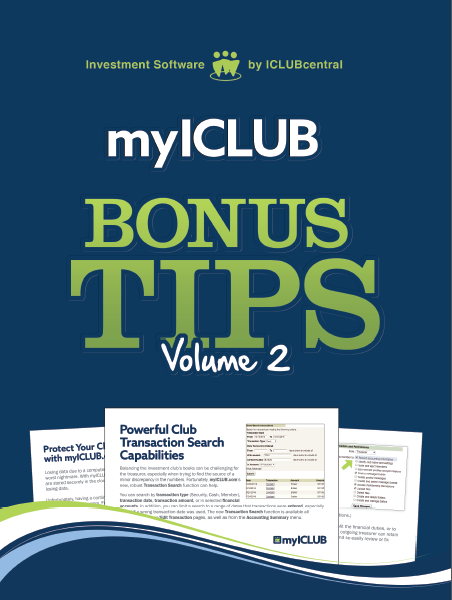 Finally, your third free eBook is myICLUB.com Bonus Tips Volume #2. We've collected even more tips for users of myICLUB.com, including many of the new features that have been added to the website since the publication of Volume #1. Together, these eBooks will provide a good overview of all that myICLUB.com has to offer to you and your investment club members.
These eBooks only touch the surface of all that myICLUB.com has to offer. You can expand your education by joining me at my monthly investment club webinars, or by viewing the archives of past webinars on the ICLUBcentral YouTube channel or from our ICLUB.com website.
How to Get Your Free eBooks
Your free eBooks are waiting for you in your myICLUB.com website! First, register your new or current investment club for a free 45-day trial to myICLUB.com. It only takes a few minutes and you'll get full access to all the features of the myICLUB.com website.
Once you've signed up your club, log in to myICLUB.com and check your File Storage library. You'll find a folder there with your free eBooks, as well as other resources to help you get started on the way to investment club success.
I look forward to seeing you online, and wish you and your club members much investing success!

Douglas Gerlach
President, ICLUBcentral Inc.