The myICLUB.com Commonsense Guide to a Successful Investment Club – the Easy Way!
A Special Offer from ICLUBcentral, the Company that Wrote the Book on Starting and Running a Successful Investment Club.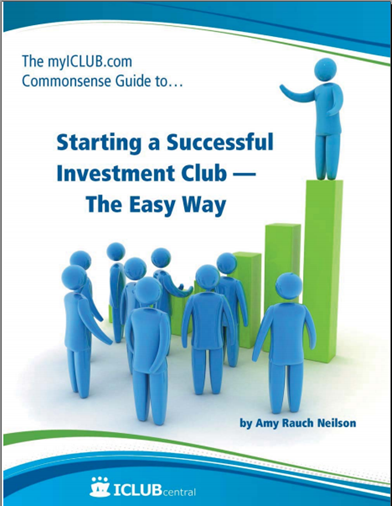 Want to learn how to start and run an investment club? In this comprehensive new book by ICLUBcentral financial writer Amy Rauch Neilson, anyone can learn the secrets of successful investment clubs, from forming a new club to starting your first investment portfolio to coping with common problems once your club is up and running.
The myICLUB.com Commonsense Guide to Starting a Successful Investment Club includes chapters and advice on:
• Holding Your First Meeting
• Finding Prospective Members
• Handling Member Withdrawals
• Selecting a Brokerage Firm
• Tax Requirements
• Choosing a Name
• And More!
About ICLUBcentral
For 25 years, ICLUBcentral has been providing tools for investment clubs and individual investors. Our myICLUB.com and Club Accounting 3 tools are used by more investment clubs than any other in the world!
Current myICLUB.com Users, Get the ebook FREE!
Is your investment club a current user of myICLUB.com? Get the ebook FREE – just log into your club website and go to the File Storage area, then look in the Free Resources from myICLUB.com folder.
Login now or start your free trial.
Get the eBook Today for Just $9.99!
Available in PDF and EPUB formats, suitable for reading on Mac and Windows computers, iPads and other tablets, iPhones and other mobile phones. DRM-free.
Buy now.
Special Offer for New Investment Clubs!
Start a free, no-obligation trial of myICLUB.com and get our eBook free!